---
Diamond Member
Posts: 7044
Joined: Wed Sep 28, 2005 3:47 pm
Location: Ohio
Cool eyes!!! That's what always grabs my attention with your drawings!!! Awesome, Sandy!!!
Deborah Lynne

***************************************************
I am not perfect. I am a work in progress. I have the greatest carpenter who ever
lived repairing me. Do you know Him?
His name is Jesus Christ.
---
Beautiful!!!!! Not only those eyes but that sensual, pouty mouth. I love it!!!!!
My dearest Eric, forever is not long enough to show you this love in my heart. Meet me in the next life so that we may continue this dance.
---
Platinum Member
Posts: 1002
Joined: Sun Oct 23, 2005 10:27 am
Location: Texas
Very good Sandy I see a lot in those eyes.
Littlefeather500
---
Diamond Member
Posts: 5418
Joined: Thu Sep 08, 2005 9:53 am
Location: Ackerman, Mississippi
Beautimous draw, Sandy!!!
---
Platinum Member
Posts: 2885
Joined: Wed Oct 05, 2005 1:06 pm
Location: Yadkinville, North Carolina
just beautiful Sandy I like it!!!!!


Ladymustang
God doesn't call the qualified, He qualifies the called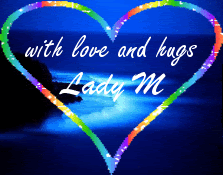 ---
Gold Member
Posts: 728
Joined: Wed Sep 28, 2005 7:42 am
Location: somewhere over the Rainbow
---