Beau, Regards
by Sandra S. Corona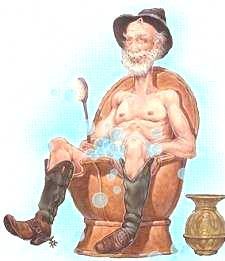 Some people truly deserve one another--mate to 'Should I Tell?'.
**************************
Dang, I can't bend over, remove my boots.
Oh, well, at least I don't have boogers, coots
and the bottom line is my rear still toots.
I can eat without teeth. Think she'll give a hoot?
Wrote a letter to my sweetheart--
she's pretty, quite a work of art!
Think she'll give me a kiss, sugar
or will she faint, turn ill at heart?
I 'fudged' a little on my part
signed it Beau, regards!
Dang, haven't combed my hair since way back when.
Of course, I haven't had a girl since then.
Meg says she lacks experience with men.
I'll teach her what I know. Oh, how I'll grin.
I bought a guy, framed, for Meg
whose praise near made me lay an egg.
Called 'Pa' in forty-six, got 'fixed.
Don't want kids 'round my neck or leg.
Haven't any since ninety—pled--
want it! Beau, regards.
Dang, nearly gave up spitting in a pot
but what if Meg, like me, has lied a lot?
If she can get my boots off, dang, whoopee
I wouldn't care at all if she's ugly.
I called her on the telephone
to see if she was home alone.
I even tossed my ear wax out!
Will Meg laugh, faint when we lay prone?
What if she's way out of my zone?
Brother! Beau, regards!