Noel
by Sandra S. Corona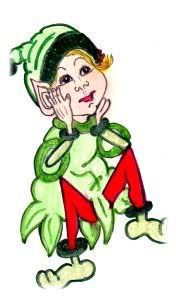 Deer Santa,
I have a whole in my bright tights! My silver bells froze, became jingle bells. Have you tights in red, scarlet bright?
Holly, with the Flocked Tree Carolers, is a dreaded site. Her silver lips, lined in black, scare folks ev'ry night.
Yule tide me over, I'm sure, but with tights split, I'll sit.
I'm a tiny sprite shy and demure; there is no cure.
Please hurry, Santa, before the snow blows and my frozen silver bells turn into gold … gel.
Noel
P.s. I need a spell checker!