Merry Christmas to all!
MISSUS Claus!
by Sandra S. Corona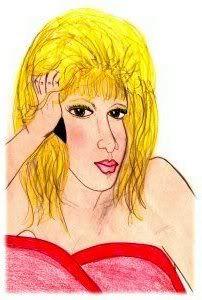 Jolly, smiley, Missus Claus---shopping---ran up quite a bill.
"Elves dislike computers although I-pods give a thrill."
Santa lost his smile. Said Missus, "Santa Claus, get real!
Memory chips are Hot!
The things we've made are NOT!
Sit, try out this toy, Dear.
It's truly Hot this year."
Santa, a runabout, loved joy riding on his sleigh.
Missus grinned, "You're always going away. Please … not today."
They were white-haired and plump
though neither was a grump.
Worked or ate all the day.
Snow won't melt pounds away.
Santa sneezed, fell to his knees---his Missus is driving
three thousand times lights' speed.---wrinkles and weight go flying.
Wayward winds whip fiercely and pure, white snow is blinding.
Thru a carwash they ZOOM,
pick up a witch's broom.
Frozen clothes crack and tear
falling here and there.
Missus got a speeding ticket from a comet, star:
"You got to get some clothes, Miss. I don't care WHO you are!"
She finished her deliveries in a rental car.
Once home Santa gasped, loud
his Missus drew a crowd.
Swaddled in a blanket
still folks exclaimed and 'wowed'.
Unwrapping his present,
Santa smiled his consent.
Christmas Eve is yours, dear
till then, stay quite near.
Ho! Ho! Ho!